Joan's Television Appearances
Deemed "Celebrity Animal Communicator" (AMC Channel documentary) and "Doctor Doolittle of Denver" (NEW DENVER), Joan has been nationally recognized for her unique gifts with animals. For the past twenty-five years, she has shared her expertise and experience on animal communication, human/animal relationships, energy healing, and wildlife.
Some appearances include: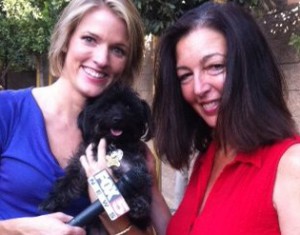 ANIMAL PLANET on 

That's My Baby

Dateline NBC's 

Pet Nation

AMC Channel documentary

NBC's 

The Today Show

ABC's 

Good Morning America
FOX 31, where she talks with baby kittens

MSNBC, talking to the horses at the 1998 Kentucky Derby

NBC (King 5) talking to the baby elephant "Hunsa" at the Woodland Park Zoo

TEDxWilmingtonWomen, The Rainbow Bridge, Animals in Transition

And many more! 
Click on the videos and images below to view some of Joan's television segments!
Request A Media Appearance
Want more of Joan?
Signup for her newsletter to receive free gifts, special offers, and support from her animal-lover community!
Joan Ranquet could have been content with being one of the best and most sought-after animal communicators working today. Thank God she chose instead to teach her knowledge in the most practical of ways, allowing us all the chance to remember the interconnectedness of all life.
Thanks 
 I actually talked to Laney after we got off the phone and she seemed to respond pretty well to it from what I could tell. I'm going to work on those top 10 lists as soon as I get off the phone. I told my grandparents how it went so they would know what was going on, and we all talked about having faith in Laney again, they both admitted that they had sort of shunned her after she attacked Ginger last time. I will look at those supplements and will get them as soon as I am able to; I definitely want my dogs to have everything they need to be as healthy and happy as possible.
Just wanted to let you know that Tobie is urinating IN THE TOILET!!!!! We caught him on videotape. I kept picturing him going into the litter box as you told me to do but he has been doing his pee-pee in the toilet. My husband and I were totally in awe how he just starting doing this on his own. Did you tell him to do that??? 
 Hope you are doing well. Dr. Masami says hi!