Animal communicator, TEDx speaker, Hay House author, educator and animal parent, Joan Ranquet leads an inspired life.
It's no surprise MSN deemed her as one of the "Top 25 People Who Do What They Love." 
Joan has connected with animals professionally for over twenty-five years, she's connected with them personally as long as she can remember. Her calling has led her to work with hundreds of thousands of pet owners, trainers, barn managers, and vets – teaching animal communication through workshops, wildlife retreats, and private sessions.
Joan shares her expertise and experience all over the country speaking on animal communication, human/animal relationships, energy healing, and wildlife.
Joan's enlightening point of view, dry wit, and heart-warming experiences leave audiences inspired to have a deeper connection with every creature on the planet.
Her skill set is based on intuition and science, and she's on a mission to teach others that energy healing and animal communication is not a gift for the select few, anyone with an open mind and an open heart can talk with animals.
Joan has taken the stage and captivated audiences at:
TEDx Wilmington Women – Speaker
Animal Bodyworker Continuing Education Conference – Keynote
IONS Houston (Institute of Noetic Sciences) – Guest Speaker
The Denver Horse Expo – Featured Speaker (multiple years)
The Equine Affair, Jacksonville Florida – Featured Speaker
The Greeley Farm Show, Colorado – Keynote
West LA German Shepherd Rescue – Keynote
Las Vegas Valley Humane Society – Keynote
South Florida SPCA – Keynote
Misha May Foundation, Denver, CO – Keynote
Sonoma Humane Society– Keynote
And many more…
Deemed "Celebrity Animal Communicator" in an AMC Channel documentary, Joan has been featured in dozens of media including:
The Hollywood Reporter
Pet Nation on Dateline NBC
The Today Show on NBC
Good Morning America on ABC
Animal Planet
The National Enquirer
The Los Angeles Times
And many more…
Here are some options of what we can do together:
(Click one of the options below to see events and classes)
Let's Talk to the Animals

Animals have a way of staring straight into our souls, and if you've ever stared back, you've felt their impact on a soul level. Instead of wishing to read their mind, why don't you ask them what they're thinking? Sound impossible? In this enlightening talk, Joan brings possibility into the mind of even the toughest critic.

Animal Energy Healing & Wellness

Experience a high frequency, zero-point energy field to bring healing work to a whole new level. Joan shares how increased awareness of ourselves and our animal companion's frequency allows for adjustments to be made on their behalf.

Intro to Animal Communication

In this talk, Joan not only teaches animal communication, but ways to enhance human/animal relationships. Audiences will gain insight on how to consistently receive a series of pictures, words, and feelings through telepathy.

Bridging Animal Communication and Energy Healing

A fun interactive talk, Joan teaches how our animal companions respond to energy. You'll learn how to set the pH of the household and how to achieve harmony for you and your animal!

Intro to Energy Healing for Animals

Join Joan as she reviews some fundamentals of energy healing for animals, including an overview of animal chakras and how to understand behavior, health and emotional challenges with this map of their system.

Let's Create Forever Homes

This talk is targeted toward those working with animals in rescues and shelters. Joan shares how volunteers and employees can quickly ground an animal, offering them a feeling of confidence and safety in an unfamiliar location.

Consciousness and Morphic Resonance

What can the Wild Elephants of Kenya, the White Lions of South Africa, and the Orangutans of Borneo Teach Us? An animal's superpower is instinct. Their entire safety is based on an emotional code, a resonance, a connection between them.

In this experiential talk, Joan shares her discoveries from the animal kingdom about how we can be emotional leaders of our own instinctual energies; leaders for our animal friends, leaders in Consciousness for our World.

Your Mission is Bigger than your Feelings

Is working with animals your dream? This talk speaks to the animal empath, the person that works with animals and in fact prefers the company of animals to people. The animal empath is someone that maybe introverted, has struggled with boundaries and certainly doesn't put themselves out there in the way that they most certainly could and should!!

This interactive talk helps the audience to see where they are. Through soul searching exercises, the audience comes up with their own personal mission. That mission becomes a stake in the ground, the armor to guard against the empathic feelings that could sway someone away from putting themselves out there.

And when your mission is bigger than your feelings, everything is possible.
Book Signing

Joan will sign copies of her book or guided meditation, "Communication with all Life, Revelations of an Animal Communicator" (Hay House), and soon to be released "Energy Healing for Animals, Techniques to Enhance the Wellness, Longevity and Happiness of the Animals we Love" (Sounds True).

Revelations of an Animal Communicator – Demystify Animal Communication - 1 hour (Evening Talk)

Joan demystifies Animal Communication by sharing amusing and poignant stories about dogs, cats, horses and wildlife from her work as an animal communicator and energy healer. She takes from the audience. Participants are always amazed at what they are actually communicating now! Joan looks at ways to improve communication! 1- 1 ½ hour – Donation to local animal rescue.

Introduction to Animal Communication – 2 hours (Evening Talk)

This evening will be filled with fun and poignant animal communication stories. Joan teaches how to use telepathy(transference of pictures, words and feelings) and leads a group telepathic session. By being consciously aware of this process, people can enhance their relationships with their animal companions, especially when there is a behavioral or health challenge with the animal.
2 hours, suggested price $10-$20.00.

You Can Talk to the Animals - 3 hour class on basic Animal Communication (Evening or Afternoon Class)

Using games and exercises, students learn how to use telepathy (the sending and receiving of pictures, words and feelings) to enhance their human/animal relationships. They learn to "re-frame" the picture in order to address any behavioral and health challenges they may be experiencing. Participants are asked to bring a picture of their animal companion for the group. This is a very fun and enlightening class!
3 hours, suggested price $65.00

Beginning Animal Communication - 1 Day Workshop (Day 2 – Intermediate, Day 3 Advanced)

Students learn how animals communicate with each other as well as how to enhance human/animal relationships. Students do exercises to deepen intuition and learn telepathy: sending and receiving pictures, words and feelings. Students start with very basic questions with the first animal. Then the students move on to working with pictures to communicate with animals at a distance. Please bring pictures of your animals to communicate with.
10:00 AM – 5:00 PM, Suggested price $110.00 (I can easily add day 2 Intermediate Animal Communication and day 3 Advance Animal Communication.)

Intermediate Animal Communication (Day 2 if added)
On the second day of the workshop, the students practice with several different animals.
10:00 AM – 5:00 PM Suggested price $110.00.

Advanced Animal Communication (Day 3 if added)
On the third day of the workshop, the students move on to behavioral and health challenges with Joan's guidance, to hone this skill.
10:00 AM – 5:00 PM, Suggested price $110.00

This is a safe environment to develop the telepathic "muscle". It is reactivating a communication skill set that humans utilized as infants. In this setting, rather quickly, students go from simple images to complex concepts to understand and assist the animal they are communicating with. This environment creates confidence and camaraderie among other like-minded people.

An Intro To Energy Healing For Animals (1 to 2 hours)

This introduction to how much we are all energy and how that affects our household and barns can be quite revealing. Joan shows some basic techniques one can do to raise the frequency of the household or barn to maintain harmony and balance.
1-2 hours suggested price – donation to a local rescue.

Energy Healing For Animals (3 hours)

This goes deep into the heart of the electromagnetic field of both the human and the animal. Joan reviews the Chakra system of the human and animals and how to help them balance and discusses what happens when the two fields merge!
3 hours, suggested price $65.00.

The Scalar Wave (3 hours)

Scalar energy waves offer powerful opportunities for healing. Scalar energy was referred to by Tesla over 100 years ago. Dr. Valerie Hunt developed a technique, using focused intent. This scalar wave technique she developed activates the body's self-healing mechanism, and it can assist the body in eliminating pain, heal traumatized tissue, heal disease and even release stored emotion. Joan has been teaching this technique for 14 years and in her Animal Alchemy class or Advanced Energy Healing for Animals, she teaches this on the animal. In the meantime, just raising our frequency automatically grounds and heals those around us.

In this class, we will activate your electromagnetic field, raise the frequency in your body by spinning the chakras, and set up a Scalar Wave (in your body) by sending in energy from three separate directions.
3 hours, suggested price $65.00

Animal Wellness (2 hours)

The class reviews label reading, vaccines pros and cons and how to mitigate any damage from them and a general overview of toxins in our homes and barns. This class also offers simple ideas for building the immune system and creating a healthy gut for the animals (balancing the pH). A brief overview of energy techniques are also discussed as well as ways to compliment Western Medicine.
2 hours, suggested price $20.00

Energy Healing for Animals and their Humans! (1 ½ day workshop)

Energy work for animals and their people (Pt. 1 & 2) In this class you learn about the energetic field of both the human and the animal and what happens when they merge. You will learn about the human and the animal chakra system and how to clear them. You will learn how to bring in the scalar wave energy, bringing the human and/or the animal to zero point energy which can be used to enhance health, wellness, longevity, behavior and even performance. We will be working with the animals by remote so don't bring your animal, please just bring a picture.
Saturday 10:00 – 5:00, Sunday 10:00 – 1:00. Suggested Price $165.00.

Private Readings

Animal communication can have the effect of the animal feeling like they got their life story off their chest and modifying their own behavior as a result. But in most cases, an Animal Communication session isn't the only magic pill to transform the household to harmony…..it starts with the caregiver(s). During a session, I guide people to take a step back, understand that perhaps the problem is a people perception problem. When the human in the household can reframe the picture for themselves mentally or take emotional leadership, they are taking charge as the animal communicator and as a result, the animal companion(s) have the opportunity to respond differently. A lot of tools for this sort of household makeover are described in my book "Communication With All Life, Revelations of an Animal Communicator". Or perhaps you'd like to experience it yourself in a session for your own animal companions. I always say that animal communication isn't something you do, it just is. Do not bring your animal. Bring a photo of your animal.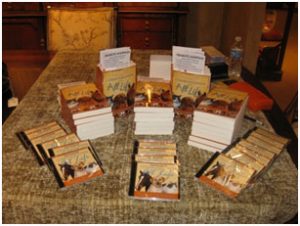 Joan has been a featured speaker at the Denver Horse Expo in March of 2010 and March of 2002. She was also a featured speaker at the Equine Affair in Jacksonville Florida in 2004, The Greeley Farm Show in Colorado in 2002.
Joan has also made her way across the country speaking and teaching in various New Age, Metaphysical and other Bookstores, including Barnes & Nobles in the Seattle area as well as Pet stores, doggy daycares and Horse events.
Joan also makes herself available and either reduces or waives her fee for rescue organizations or rehab facilities.   This makes for a great fundraiser and raises awareness to help create Forever Homes!  Joan has spoken or taught at very successful events for: Las Vegas Valley Humane Society, South Florida SPCA, Pet Rescue by Judy in Orlando, Misha May Foundation in Denver, Co, Sheltie Rescue in Denver, Sonoma Humane Society, Sarvey Wildlife Center in Arlington, Wa to name a few.
If you don't already have my first book in your store, "Communication with all Life"- that is easy to remedy: "Communication with all Life, Revelations of an Animal Communicator" by Joan Ranquet – ISBN: 978-1-4019-1681-7 published by Hay House. To order: Ingram Books (800) 937-8000 or Hay House (800) 654-5126.
The Guided Meditation is a great companion piece for the above book and runs just under 20 minutes. The ISBN number: 978-930827-50-9 produced by Audisee – (206) 499-1401 Peter Lewis or e-mail: peterb@AUDISEE.com. This retails at $19.95.