Energy Healing for Animals Level 1
$1997
10 Week Live Course Begins!
Starts November 10, 2022
Energy Healing for Animals Level 1
10-Week LIVE Online University-Level Coursework in Energy Healing Modalities for Animals (and Humans!)
Live Zoom Calls • Expert Instructors • Worksheets/Trainings
PLUS Bonus Access to Pre-Recorded Teleseminars
Lifetime Access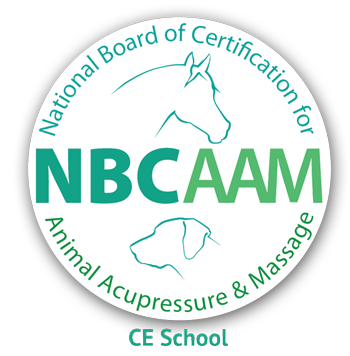 Does your animal have behavioral issues that leave you feeling confused and helpless? Has an animal you train experienced blocks that hinder their performance? Or, are you personally facing a health challenge and want your treatment amplified by energetic, non-intrusive medicine?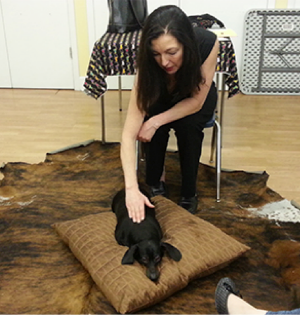 There's nothing stronger than the emotional bond between a loving human and their animal companion, and it's heartbreaking to watch our beloved animals experience pain, fear, or sadness and not have the tools to help. You want the best life for your animal - all animals – but where do you start?
What if you could help an animal release old anxiety in such a way that they step into a healing, thriving state of being? And, what if this gift wasn't possessed by a select few? What if it was a skill?
In the LIVE online Energy Healing for Animals Level 1 program, you have an opportunity to dive deep into animal behavior and gain transformational insight into your animals. At the end of 10 weeks, you will experience a deep understanding and compassion for your animal companions – their actions, behaviors, responses – and have the ability to bring peace and wellness into their lives, and in your own.
The live classes at Communication With All Life University (CWALU) provide a unique opportunity for immediate feedback and comprehension of what you are learning, while experiencing camaraderie and connection with like-minded individuals. You will travel on this journey together, allowing for invaluable support, feedback and understanding.
Through decades of education and life experience, Joan Ranquet has mastered these abilities and developed a unique teaching style and investigative ability. She travels the world teaching and utilizing these healing techniques with thousands of animals, domestically and in the wild. More than 25 years of practice and a lifetime of love and loss have prepared Joan to offer this opportunity, one that will forever enrich your life and the life of those around you (animal or human). The Energy Healing for Animals Level 1 live online course is here to guide you every step of the way.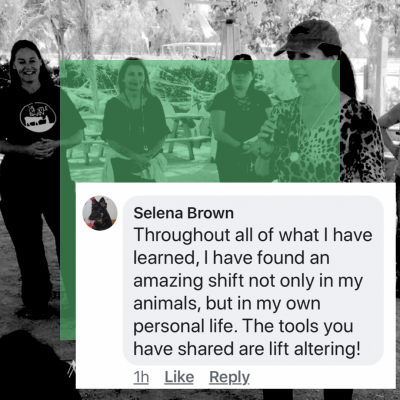 Who is This For?
Are you wondering if Energy Healing for Animals Level 1 live classes are right for you? Let's see if you recognize yourself in some of the other students who have attended the program:
Animal lovers who see animals as individuals and desire to create harmony amongst animals or between animals and humans.
Animal lovers who want to optimize the wellness of animals in their care – including those with animals in their homes, animal trainers, dog walkers, animal groomers, shelter/rescue workers, pet sitters, animal conservationists – simply anyone who loves and cares for animals.
Empaths and intuitives who want to deepen their connection with animals and heal their hurts.
Animal communicators who desire to expand their skills to bring healing and comfort to the animals they communicate with.
Animal energy healers (or those who desire to heal animals energetically) who want to further hone their skills through LIVE online classes where they can gain personalized training and immediate feedback on their techniques from the top experts in this field.
Veterinarian support teams who desire to elevate their understanding of the whole animal (and, elevate their career and value in the veterinary field as a result).
Bodywork practitioners such as acupuncturists, reflexologists, massage therapists and others who can expand their techniques to the animal kingdom and understand animal's specific pain points.
Reiki, Pranic, Crystal, Quantum, Qigong and other Energy Healers who desire to incorporate animal healing into their practice.
With Joan's unique investigative experience and teaching style, animal communication courses are NOT a pre-requisite for this energy healing program. Even with the diverse backgrounds of students in every class, instructors work with each person at their own level as needed. And the camaraderie of like-minded individuals creates a safe space that's conducive to learning. When you put yourself in a safe environment to practice, with people who are supportive and compassionate toward your interests and journey, it inspires confidence.
The sense of community and support experienced by students is a core value at CWALU. Plus, your fellow students will help confirm what you are learning and what you are receiving from the animals.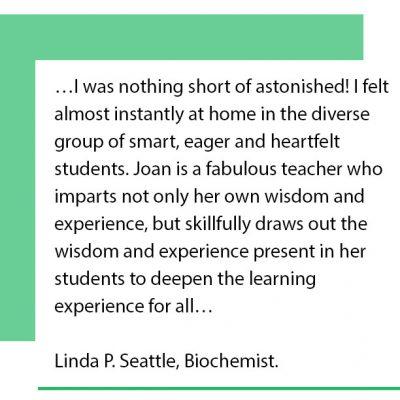 So, what does this all mean?
Energy Healing for Animals Level 1 is an intense, 10-week program through CWALU that immerses you into the electromagnetic field study for humans and animals. You will receive:
10 weeks of LIVE online classes that allow you to understand the teaching with immediate feedback and confirmation of the information you are receiving. This verification of your learning enables you to build confidence and hone your skills!
9 of the classes are taught by Joan herself!
An overview of the transformational effects of Energy Healing in animas (and also in humans!)
Emotional Freedom Technique (EFT) tapping – this is so important that it's covered in at least 5 of our calls! Joan is the foremost leader in teaching EFT for Animals worldwide.

You'll receive live feedback on each call, with an opportunity for Q&A!

Experience the Scalar Wave healing technique as you are guided through a three-part process: running energy, clearing chakras and bringing in the scalar wave for yourself.

Live feedback on the call about the experience, with Q&A to follow!

In a separate lesson, you will experience using the Scalar Wave healing technique on an animal – being guided through the three-part process of running energy, clearing chakras and bringing the scalar wave into the animal.

Receive live feedback on the call about your animal's experience, and Q&A to follow!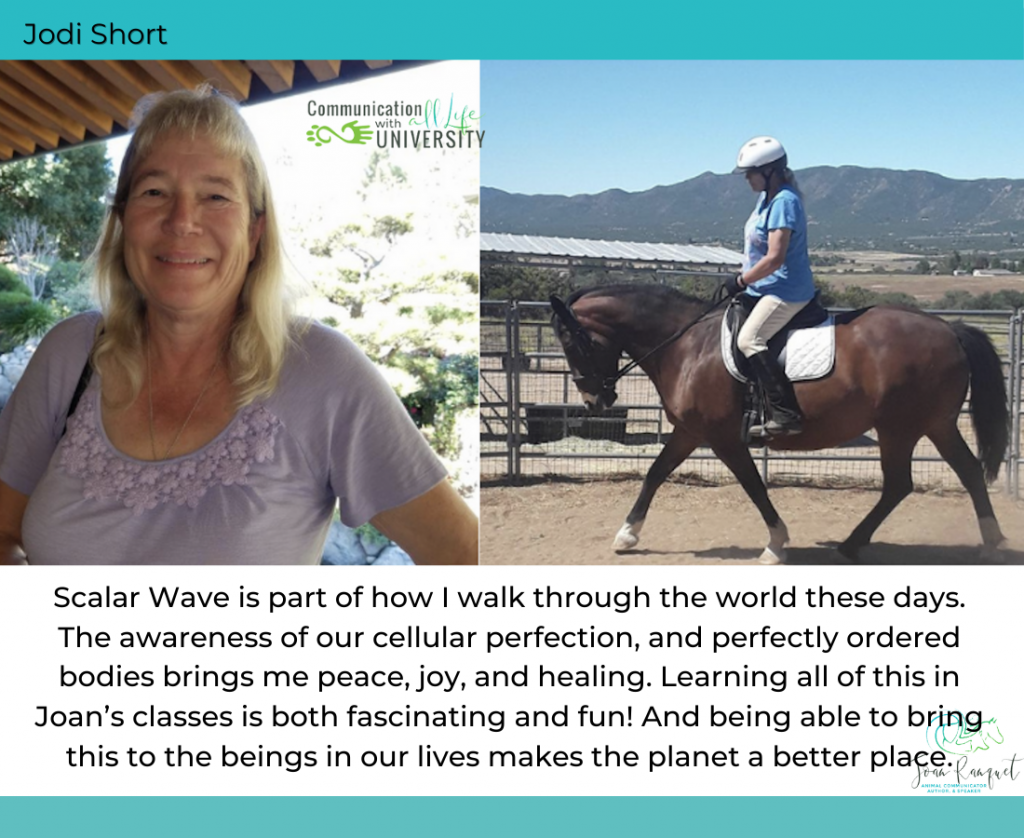 Watch as people's lives, homes and animals transform through the experience of working with energy in these very specific ways.
Hone your ability to understand what is at the base of emotional, behavioral, and physical challenges… AND, have tools to help.
Learn techniques to clear away inflammation, soft tissue injuries, and bring the body back to balance.
Gain access to the Animal Energy Healing Library with Energy Calls.
And so much more!
BONUS! With your purchase, you receive the Energy Healing for Animals
Fundamentals course – a $497 value! Your lifetime access to this material includes:
12 modules of pre-recorded teleseminars and written training materials in Energy Healing, including videos from master communicator and healer Joan Ranquet, plus Animal Education Talks with other experts in animal communication, shamanic energy healing, master Reiki healers, and more.
An introduction to the traditions of energetic healing modalities that are rooted in Traditional Chinese Veterinary Medicine.
Energy Management 101 for the Practitioner.
Understanding the electromagnetic field of humans and animals and what happens when they merge (morphic resonance or "swarm theory").
Chakra system basics for both humans and animals and how to clear them.
Continued training on the foundational energetic healing methods of Emotional Freedom Technique (EFT Tapping).
Additional practice through a recorded Scalar Wave experience, utilizing the three-part process – running energy, clearing chakras and bringing in the scalar wave for yourself and for animals.
Preparation techniques before you perform energy healing on your animals or yourself.
Tap into the invisible energies of the body's cellular system, and learn techniques to clear away inflammation, soft tissue injuries and bring the body back to balance.
Tools and techniques for the Energy Healer's "Toolkit" that are based on honing your ability to understand what is at the base of emotional, behavioral, and physical challenges.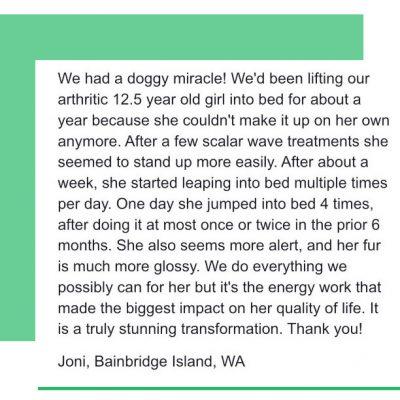 You'll soon discover that reaching a high frequency, zero-point energy field brings healing work to a whole new level. After enough practice you'll transition from trying to being. You'll experience increased awareness of you and your animal companion's frequency, allowing you to make adjustments on their behalf.
Students explore the body as a vast energetic network and learn how to use energy to heal the physical and emotional issues in both animals and humans. The EFT (Emotional Freedom Technique) portion of this course offers a deeper dive into more advanced EFT work than any other course at CWALU.
Are you ready to abandon limiting beliefs and step into a world that takes possibility to a whole new level?
The core of this course is healing. As healers, we often experience both our pain and the pain of others. The calming energy work taught in this course trains you to manage this pain - healing the healer as well as the receiver.
Energy Healing for Animals Level 1 is one of several LIVE Online life-changing opportunities offered at CWALU!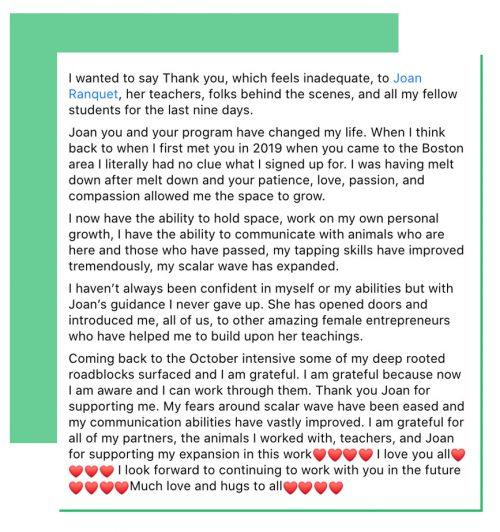 About CWALU
Since 2007, Communication With All Life University has housed some of the most impactful animal communication tools, methodologies, and teachings to date. More than a university, CWALU provides the following:
Guest speakers who lead in their field of expertise: behaviorists, holistic/homeopathic veterinarians, grief counselors, body workers, sanctuary directors, international competitors and judges.
Authors from top publishing houses like Hay House and Sounds True
Various forms of healing, training methods, and rehabilitation with animals
Bodywork, nutrition, essential oils, homeopathy, herbs and flower essences
Animal Communication Home Study Course
Energy Healing for Animals Home Study Course
Animal Business Academy
All live workshops
33 Advanced Animal Communication Teleseminars with me
5 Mentor Calls
And so much more!
About Joan
Animal communicator, speaker, founder of CWALU, marine naturalist, and Hay House author, Joan Ranquet was deemed "Celebrity Animal Communicator" by AMC.
READ MORE