Rescue Me! The Rescue of the Week ~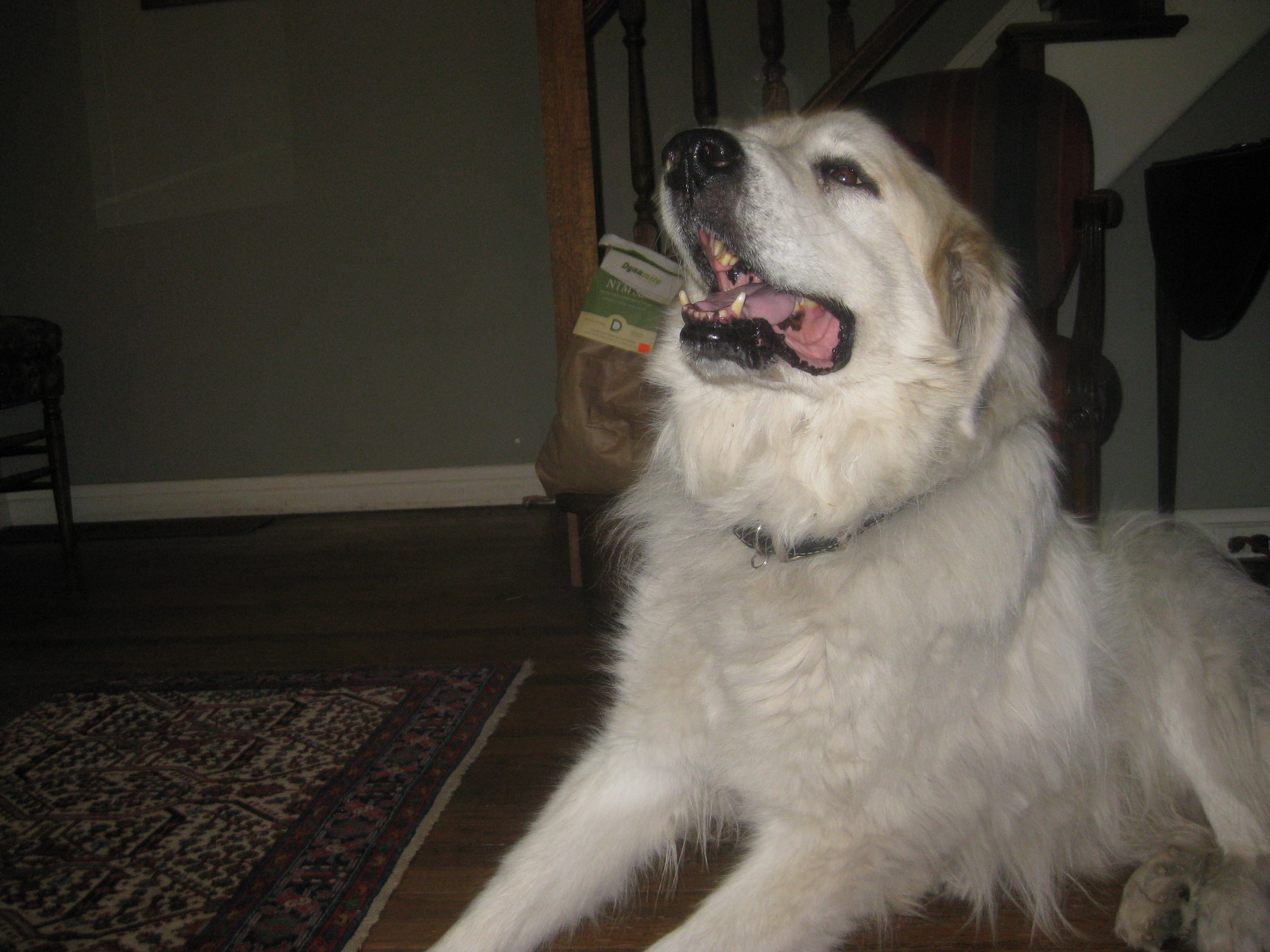 There was a lot of heavy breathing coming from the back seat of the car.  The windows were down and the wind was flying through the hair, the white flying dog hairs.  Ellen (human) and Luna (Great Pyrenees) had just adopted Stanley – another big fluffy white Great Pyrenees.
This week in "Rescue Me, The Rescue of the Week", I am focusing on Great Pyrenees Rescue in Elbert Colorado – www.pyrescue.org. 
The Great Pyrenees Rescue is run by Linda and John Kryder,  a couple that has been married for almost 60 years and work together as a team for the betterment of the 9 dogs that are currently up for adoption.  The website says they have placed over 800 dogs, I thought they said that they had placed over 1700 dogs.
Linda and John Kryder will drive around in the Rocky Mountain region (maybe even a larger area than that) to either pick up or deliver Great Pyrenees.  They consider themselves to be a middle ground – they know that all the dogs will find great homes and they are patient.
The Kryder's have a very nice set up for the dogs.  There are 3 fenced acres for play time.  There is a meet and greet area for the people and dogs.  They have wonderful kennels and runs for the dogs to be in. 
They have an intuition about who will be the right person for these dogs, yet, the Kryder's allow the dog to pick.  They said that the dog knows when they meet with people who their people are.
The Kryder's got their first Pyrenees in the early 1990's and went through many trials and tribulations to figure out how to deal with such an independent thinker as their puppy proved to be.  With all the ups and downs, it still hooked them to that breed! 
Now they have gone to the dogs – the Great Pyrenees.  Some fun things to note about Great Pyrenees is they are mountain dogs, hailing from the Pyrenees mountains – Northern Spain and Southern France.  They are herd guardians, they could guard from a sleeping position.  Make no mistake; they can go from zero to 60 with an impressive bark and standoff ability in about 2 seconds!  When in a home, these guys could be put in the couch potato category – in fact they could guard from bed.
Great Pyrenees are wonderful companions as well as still great livestock dogs.  They are becoming known for their rescue work as well as their therapy work and excellent in fun competitive disciplines.  They adapt well and are social.  They recognize predators and have a special nurturing side for small, young or sick animals.
If you are looking to adopt a Great Pyrenees, take a look at the dogs that Linda and John Kryder have – one couple is driving from Florida to pick  up their second dog up this weekend!!  Or if you are looking for a wonderful, caring rescue to donate to – www.pyrescue.org. 
Stanley (pictured above) has settled in nicely at Ellen's house. 
And of course Luna (pictured below) rules with an iron fist, or paw…..from the bed!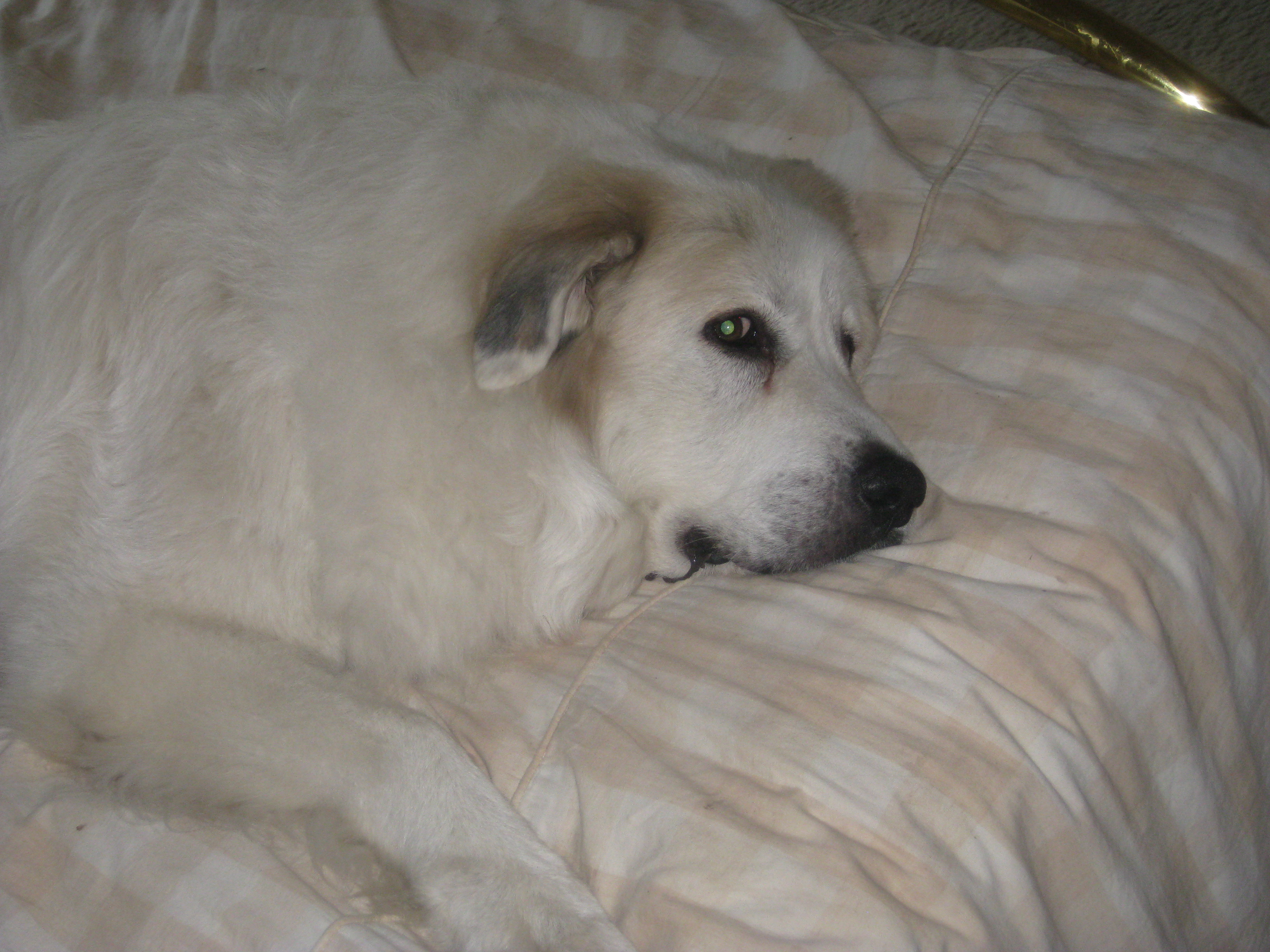 Joan Ranquet, Animal Communicator, Speaker & Author of "Communication with all Life, Revelations of an Animal Communicator" published by Hay House.  Joan is the founder of Communication with all Life University and is launching an Animal Communication Home Study Course.  www.joanranquet.com
For upcoming workshops, teleseminars, Dolphin trips and more: www.joanranquet.com/events
For information about supplements and feed for all life:  www.dynamitemarketing.com/joanranquet