Three friends cantered across the Rainbow Bridge last week
 First it was the neighbor, Bianca calling at 7:44 a.m. last Wed morning…..she said that she had to put the pony down. I knew she had never done this and I offered to come over. Rosie, the pony had been of such service to so many people, she had taught many kids to ride.  Bianca's kids alone got the whole teaching kids to ride ball rolling.
 When I went over there, Rosie had such a nonchalant attitude, yet she knew.  There she was just grazing on the lawn of Honey do Farm. Grazing like she did every day.  Her struggles of getting up and not being able to move for who knows how long every morning were completely unseen in her contentedness as her tail lightly swayed in the wind. 
For me the tears started to stream. I knew this was the last day, the last moment – she was so unfazed. She knew as well. 
Bianca had said she was the perfect pony always and that there was nothing like it (and Bianca has had her share of ponies!)   A few of Bianca's friends and her parents arrived.  One of her friend's sadly had just lost her own horse the day before.  She warned Bianca that when the euthanizing drugs went into effect, it could be tough to watch.  I could see how torn Bianca was to have this peaceful pony grazing be the last vision vs. whatever would be.
Bianca was able to stay present.  She was supported by wonderful friends and truly supported by Rosie.  As Bianca said when Rosie took her last breath and gracefully was placed on the ground – "You see, Rosie is even now the perfect pony."
Rosie will be missed by many.
Then there was a call a week ago from Ellen that Andy her beloved horse had a puncture wound.  We talked about riding vs. not riding with a wound.  I met Ellen boarding in Denver with my two horses at Table Mountain Ranch. Andy was a solid dude, funny with a twinkle in his eye. If he had been human, he would have been the Irish match for Ellen (or at least half Irish). 
Then Friday morning she said something was worse and she was driving out to the barn where Andy was boarded.  Later that morning, I could see Ellen beeping through but I was engaged in Friday morning phone sessions with animal clients and couldn't click over.  When I finally called Ellen back, she had already put Andy down.  I was SHOCKED. And actually glad that I had been booked to the gills with clients – I don't know how I would have or could have been with someone if I had clicked over.  My dearest friend's animals are somehow like my own.  Andy (as other of Ellen's animals are) in that dear category.
That particular morning it was not the puncture wound flaring up unfortunately.  Andy walked out into the pasture where he was turned out every day and snap went his leg.  So tragic, so unexpected and yet that reminder of how temporary all of this is.  Thank you Andy for that reminder – not an easy reminder, but you're right – it's all temporary.  I'm still stunned.  Especially from one of the more "seeming" solid horses that I think I know.
Ellen had just gotten back in the saddle so to speak.  She had two years off with Andy due to lameness.  When I was just in Denver, I was staying with Ellen – as I went off to talk to animals or speak at the Rocky Mountain Horse expo, Ellen was dashing off to ride.  Very sad.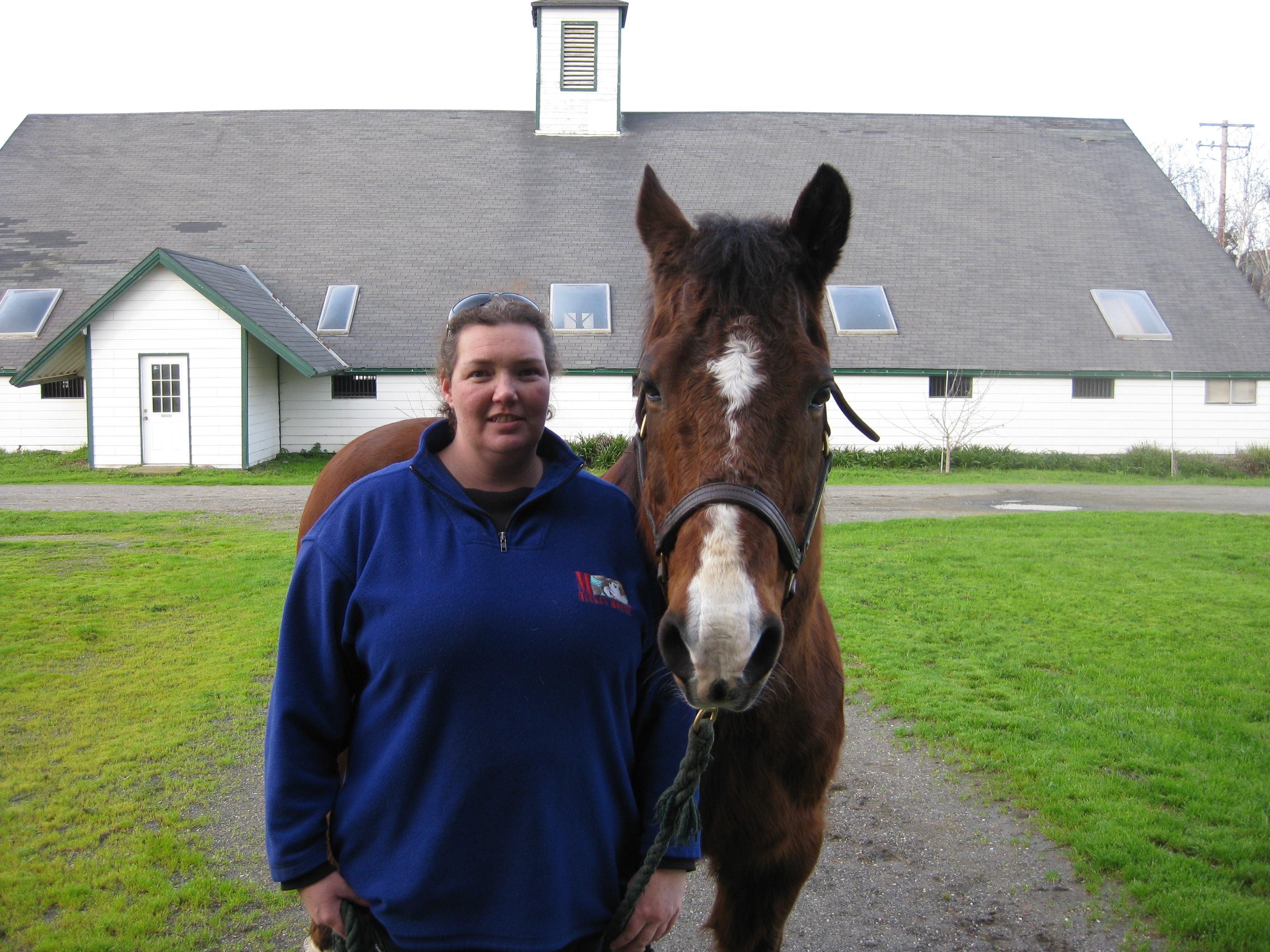 And then there is Hank.  Again, Hank's person – Christy and I met through boarding our horses at the same barn.  This barn was in Florida.  (yes, that's a lot of moving!)  Christy, Hank, my own animals and I went through hurricanes, a dramatic move to another barn and Sunday morning trail rides (where I frequently had to pony Rollie off of Gabrielle because he would have been left alone).  My dog Olivia was always in the lead.
My dog Olivia could drop a ball in front of Hank and he would kick it for her.  As a former cutting horse champion, and his fancy cow AQHA breeding, he knew how to keep other species entertained, even the half Border Collie, Olivia.  They also had other games.   My animal communication could be in the form of cuss words as I tried to call my dog off of Hank. Then I'd look over at Christy and know that Hank had set the whole thing up.  Christy and Hank had the last laugh on us!
Christy used to play hide and seek with parts of carrots in his stall.  Hank had long naps. Hank was as entitled and quirky as any famous artist or rockstar – and moody!   And his fame has spread across this continent.  So many of us met because of Hank and we all remain friends.  So this is a true loss.
I was just down in Sonoma and saw Hank.  A week ago, he just turned 30. He was still such a joyful and troublemaking guy that also required his meditation or nap depending upon your philosophy. 
In October, he helped educate my Animal Communication class by remote work after his first set of seizures and it was midterm time for my graduate students – he was instrumental in their learning.  I'm grateful I got to see him in January just being the playful prankster Hank that I will remember.
In all three horses, they brought their person beyond their wildest dreams.  While Rosie may have started out teaching Bianca's kids to ride, Bianca has a whole riding camp around the teachings of Rosie http://www.honeydofarm.com/.   Bianca's family, friends and students will miss Rosie – but Rosie has set a lot in motion!
Andy's challenges got Ellen to become a saddlefitter – she has traveled long and far to learn, and then long and far to work with great knowledge, experience, commitment and integrity:  www.saddlehands.com.  Thank you Andy!
And Christy – it is yet to be determined what Christy will do now.  Hank took her on such a journey for the last 26 years, when she assimilates all of it – wow – who knows what she will do!  Christy has been an amazing support center for many people that help animals.  In the meantime it is such a loss for her and her husband John.  
Three friends cantered across the rainbow bridge. Three friends will really be missed.  Three friends left giant, irreplaceable legacies. THANK YOU!
Blessings, Joan
Joan Ranquet
www.joanranquet.com Animal Communicator, Author, Speaker, Founder of Communication with All Life University Joan Ranquet, Host of Pet Talk Live! Radio show on www.contacttalkradio.com 4:00 pm PST on Wednesdays ~
4/7/10 – wed. 4:00 pm PST: Pet Talk Live! With Joan Ranquet, we will have a mini reading on my kittens with a special psychic, we will have an awesome rescue of the week and our very special guest is: Lukas the world's smartest horse, and his person and trainer Karen Murdock.