What's in a name and other random thoughts of an Animal Communicator
What's in a (Pet's) name?
Does the name add value or hinder your animal Companion?  
From Shakespeare's Romeo and Juliet, 1594: JULIET:
     What's in a name? that which we call a rose
      By any other name would smell as sweet;
      So Romeo would, were he not Romeo call'd,
      Retain that dear perfection which he owes
      Without that title.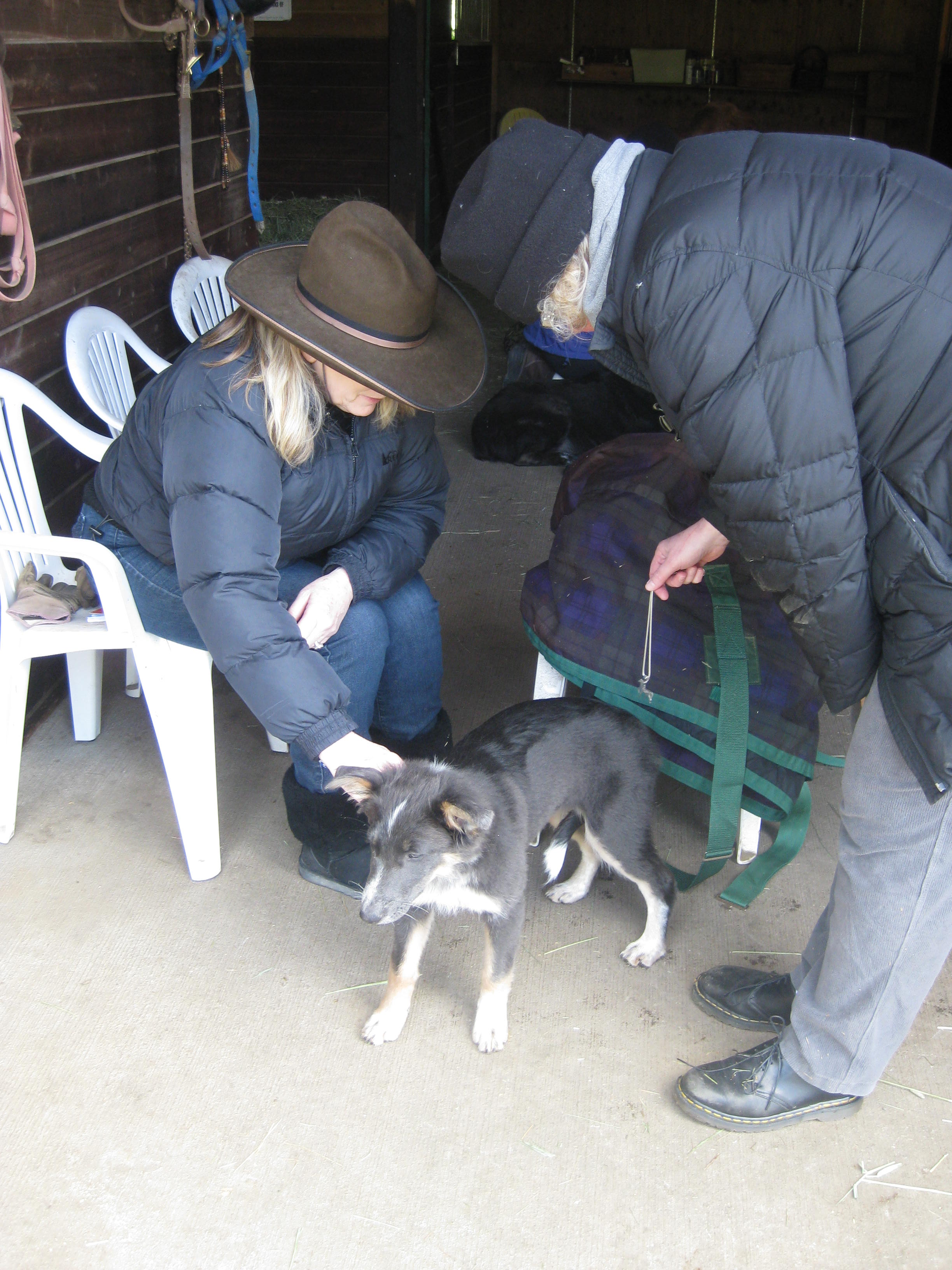 How did you name your pet? Was the name inherited? Did you create a barn name? Do you have a series of nicknames for the different looks, behaviors or coy activity of your dog, cat or bird? 
I have seen a name make or break a personality. I have seen a new name completely turn an animal around. One potentially great thing when getting an animal from a shelter is that it is a brand new day in that animal's life – why not start with a new name? 
The dog I adopted, Isabella (on the left in the pink chair) – had a different name with the rescue group – they called her Sarah.  I thought Isabella (both the name and the dog in front of me) was a very beautiful match.  The name is very Queen like (okay I'm all about BIG girly names) and that was fitting to bring out the personality that I knew was in there for this shy, nearly feral dog.  She was SO introverted and was happier with her head in a corner than out in public with others (except me and Olivia – my other dog).  Queen Isabella sponsored the Columbus voyage – the discovery of America – so who better to name her after than a Queen who was a patron of THE discovery voyage of our home as well as a patron of the arts and scholars? She has turned into quite the discovery dog indeed. 
Olivia (on the right in the pink chair) is a great story. My ex husband (he was my husband at the time) and I were living in Denver. I wanted a dog, his kids wanted a dog. We were redoing a bathroom in the house and he ran off to Home Depot. He came back and said he met the most well behaved Border Collie in the store and that her people said she had puppies (not full bred) at home. He had taken their phone number…..we made a call and off we went up I-70 to Evergreen, a mountain town.  In fact this was probably the first week of December and there was definitely crusted snow in all around. 
On the drive up the freeway I casually mentioned that I will name the dog Olivia. Without seeing her, I knew my puppy was in that litter. 
We arrived at this warm mountain like cabin in the woods. The woman graciously greeted us at the door and she went to the back door and one by one called the puppies in. All super great names by my book and then I heard it…….."Olivia, come in." 
'Olivia' ran in with the rest of the balls of fur and sat on my feet. I also had to think that a ½ Border Collie that was cute, excited and mellow was the best of the gang.  SOLD. 
I have more stories – not only of my own animals – but of watching animals really be able to blossom because someone took the time to either change their name or to stop calling them a name that was limiting their potential.  More of that to come……………. 
Last year I had a contest on "What's in a name" and my Communication with all Life University helped me judge it.  My newsletter has the first story and there will be more in my newsletter as well as posted here on the blog.  I'd love to hear your story!  
Blessings, Joan 
Joan Ranquet 
Animal Communicator, Author, Speaker  
www.contacttalkradio.com host of PET TALK LIVE every Wed. at 4:00 pm pst  
Founder of Communication with all Life University certification program  
For the best supplements for all life – (humans, animals & soil):  www.dynamitemarketing.com/joanranquet  
Upcoming classes: Beginning & Advanced Animal Communication classes coming up – plus special EARLY BIRD specials extended.  
DENVER – September 17 – 19  
SEATTLE AREA – October 15 – 17  
BOYNTON BEACH – November 6th 2010 The Crystal Garden  
ORLANDO AREA – November 12 – 14  
For more info or to register – joanranquet@joanranquet.com or contact Shannon at smyers@myersmarketing.com.