CWALU Graduate Profile, from animal communicator to conservation artist!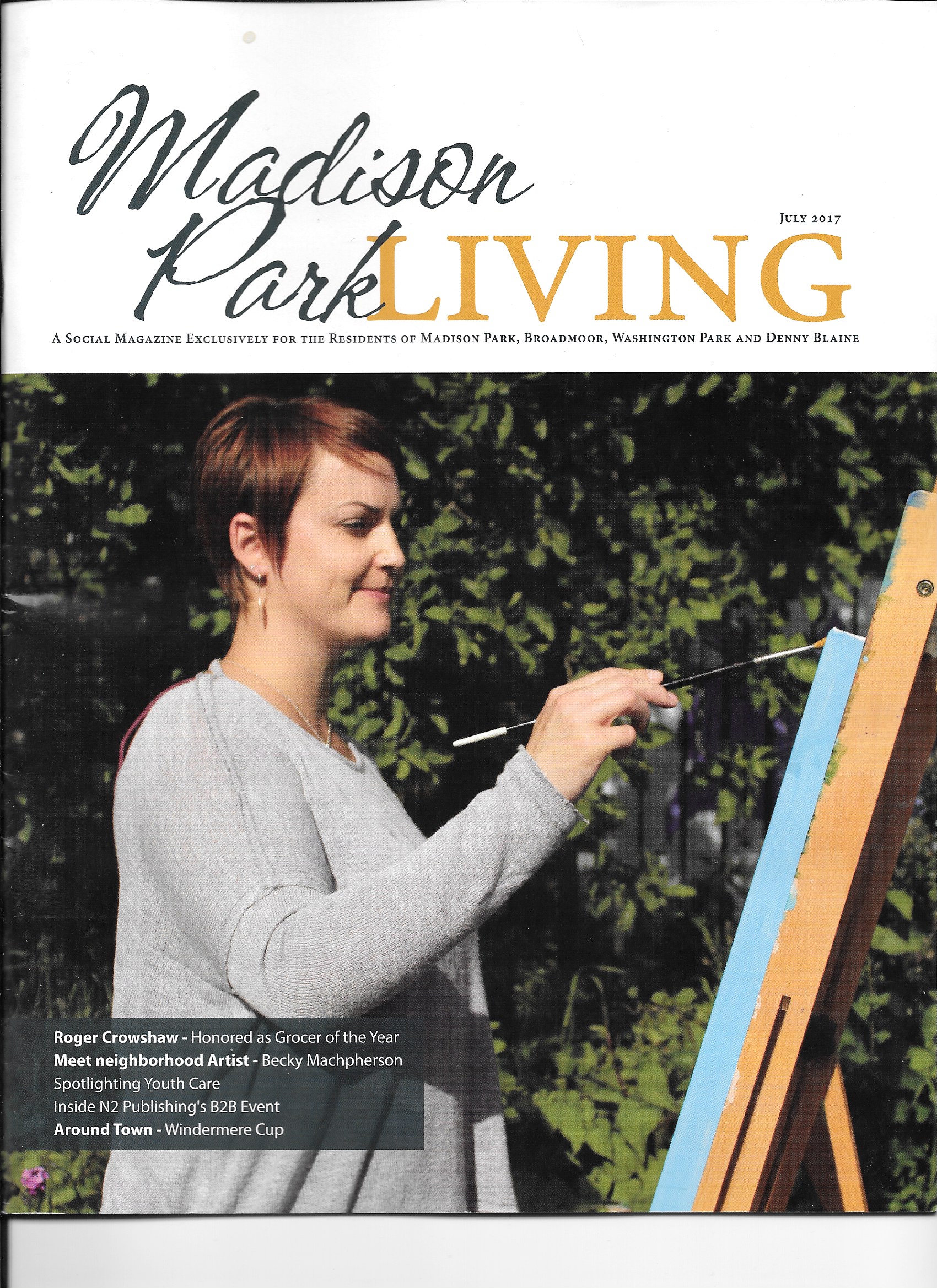 I love teaching so much.  The transformation is incredible.  To watch my students grow, blossom and be out there helping animals is truly incredible.  That is why I created Communication with all Life University.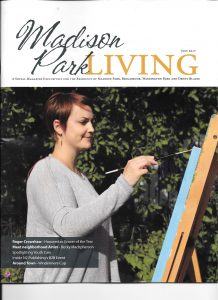 This is Becky MacPherson's incredible journey!  Not only is one of the graduates of Communication with all Life University, Becky MacPherson on the cover of a magazine, Madison Park Living, she has a showing of her art work at Flying Apron in Fremont (Seattle) 3510 Fremont Ave. N, Seattle, Wa. 98103.  Let me back up and share our little interview here:
What drew you to Communication with all Life University Animal Mastery Program?
After becoming more interested in animal communication, I bought a few books on the subject. I finished Joan's book, Communication with all Life, first out of the four that I had purchased (because it was the most compelling to me personally) and when I got to the last page- I read on her bio page that Joan was living at that time in Carnation, WA- a short drive away from my home in Seattle. I immediately went to her website, looked up workshops, and attended my first one in the Spring of 2015. The rest is, as they say, history. 🙂
Are you an animal communicator/energy healer now?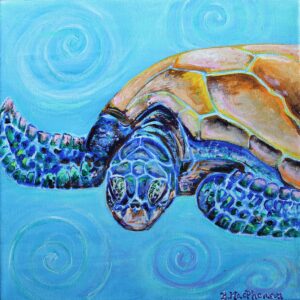 Yes, I have a standing call with a horse rescue and animal sanctuary each week, where we work with the one or two animals that have a particular need or challenge. Outside of my work with the rescue, I also work with clients two mornings and one evening a week. This provides the regular grounding connection with animals and their people that helps support the conservation work that I do.
If not, what are you doing?
The reason that I have somewhat limited availability during the week is because I devote most of my time as a conservation artist. I have been an artist for a long time, but during the university program and all the AET (Animal Education Teleseminar) calls with Joan, I recognized the need of our wild animal brothers and sisters to be seen, heard, and protected. I was given this talent for painting, so I thought I could use what I have been given to give back by painting animals to raise money and awareness for conservation organizations. By serving in this way, I also hope to express my gratitude for all the ways that animals contribute to my life on a daily basis- just by being them.
If not, how are you using animal communication/energy healing?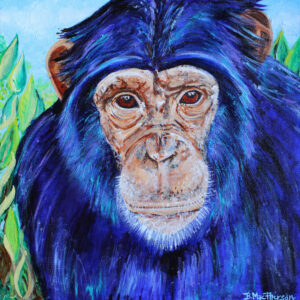 I use animal communication in each of my paintings. The animal is always involved in the process. As I paint, I get very connected and I ask the animal to help me express on the canvas what it is that makes them unique and wonderful, and they always blow me away with how well they do this. Most of the time I feel like the animal almost paints itself! One example of this is the chimpanzee I am working on. I was given permission to use any photo on the Facebook page of Project Primate, the organization I am working with, so I spent a few days looking through the pictures and had marked one or two that I thought were the ones I would use. However, each time I picked a picture, something was holding me back from starting the painting. Finally I asked, which of you wants to be the 'face' of this painting? And sure enough, I was drawn to a picture of a chimpanzee that I had not noticed the other times I looked through the feed. This chimpanzee painting has been a surprise with how clear it is that he is helping me 'bring him to life' on the canvas- I can feel it to a point that is humbling and awe inspiring to me.
As for energy healing, along with clients and the rescue work, I do a scalar wave session on myself every single morning to start my day (I can feel it if I skip a day!) and on my aging canine best friend each night to help support her physically and emotionally as she transitions into this later stage of life.
If you are out there as an animal communicator or an energy healer, what does your day look like?
(ie are you driving around? Working from home? Doing sessions? Working with vets, etc.)
Monday and Wednesday mornings you can find me most of the time in my home office working with animal communication clients on the phone or doing remote energy healing sessions. Occasionally I work with an animal at his or her home, but a lot of my clients are out of state, so most of the time I am doing phone sessions. My home office looks out on my garden, so there is a wonderful sense of nature and connection all around me as I work.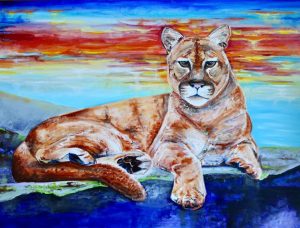 Is it helping with your animals at home?
Most definitely! It's my daily 'go to' to support all the animal friends in my care. I'm so happy to have it as a tool to use- makes life calmer and happier for all!
What would you have to say about Joan, CWALU and/or Joan's teaching?
The best thing about CWALU? Joan. Joan is one of my favorite people on the planet. She is a mentor, inspiration, and friend. She is a really effective teacher- she teaches with experience and humor- making sure each student really 'gets it'. If you don't get it in one way, she explains it in different ways until you do. She supports you as you begin- giving you confidence as you initially experience communicating with animals for yourself- and she stretches and challenges you as you become more experienced. Joan holds you accountable and doesn't let you give up on yourself.
The education one receives at CWALU is unparalleled with the amount of support, information, tools, and training that is included. I've graduated and I'm still making my way through all the amazing information that we have at our fingertips as part of the program. As a graduate I continue to learn each week as I tune into the AET calls on Monday nights- I have learned so much about such a variety of topics- from animal communication, to all the different modalities of energy healing, to wildlife, to nutrition, to behavior, to training, to breeds of animals, to marketing, to conservation…it's ALL there. No other program that I have ever come across gives you such a well rounded and thorough education. As a graduate, you are prepared to handle anything you may encounter moving forward as an animal communicator and/or energy healer. Or conservation artist as the case may be. 🙂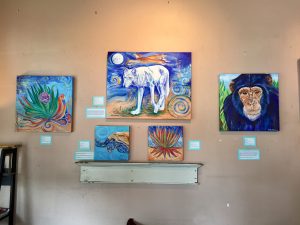 For more info, go to:
And animal communication is www.beckymacpherson.com