Sitting here listening to bird sounds at Ithumba Camp is heaven. Ithumba Camp is here in Tsavo East, Kenya. It is owned by the Sheldrick Wildlife Trust and it is where the juvenile orphans live. We have had so much fun so far.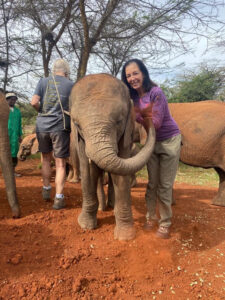 Here at Ithumba camp, the orphans go through a process to eventually be released from the wild. But let's start at the beginning. The Sheldrick Wildlife Trust is a place where orphaned elephants come. It is a nurture- to- release system and the process takes about 9 years.
When an orphan is found, it goes to the Sheldrick Wildlife Trust in Nairobi. This is known as the nursery. Each baby has a stall and is assigned a human to sleep with. They rotate the humans so they never become too attached. There, they are bottle-fed milk, they learn to forage and they go on walkabouts as a herd, the herd leader being one of the humans.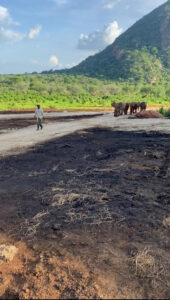 At about 4-5 years old, they go to one of three camps, Ithumba Camp, Galdessa Camp or Umani Springs. Umani Springs is where the harder to release orphans go. Some will never be released. But at Ithumba and Galdessa, it is all about moving them into the wild herds. Between the nursery in Nairobi and the other camps, the process takes up to 9 years.
So at Ithumba Camp, they get a bottle, they continue to forage and they go on longer walkabouts as a herd. The herd leader being one of the humans. AND, they often encounter the wild elephants. After a time (again, could be years), they slip off with the wild herd. There are several herds that are in the area.
During the day, during their walkabout, they get another bottle and have a MUD BATH!!
On my trips, we donate to the cause that is the theme of the trip and/or we adopt an animal for all of the participants. I was happy to meet my boy, Ambo. He kept coming over to me last night!!